Run Talker of the Week – Kate Els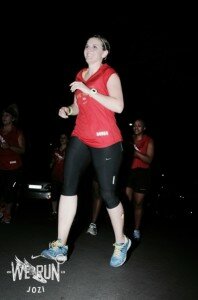 How did you get into running? I got dragged along to a night trail run event with a friend that didn't want to go alone. I ran (actually I walked) 4km and the endorphin rush straight after meant I was hooked. I think at first it was more about how social it was, but now it's definitely more about a personal journey to my goals. Oh yes, and the offer of a hot dog and beer after definitely helped in getting me there in the first place.
How long have you been running? More off than on for the past 3 years, but I only got serious about training for a half marathon at the start of 2013. After a glute injury in February, I did a lot more research into training properly and cross-training in other disciplines to strengthen my body and improve my running.
What is your favourite distance to run and why? I have to say 10km. It's the distance I can be consistent in and the only distance where I can constantly see improvement. I've only just run my first half marathon, so I'm sure that'll become my favourite distance in the next couple of months.
Who is your biggest running inspiration and why? I grew up in a family of cricket-watchers and the Comrades made a brief appearance every so often. Truthfully, I don't know many big names in running so I've always drawn inspiration from the runners I know in real life. Luckily, the runners I do know are awesome and their persistence has always been something I've watched from afar with awe.
What is your biggest or best running achievement? What are you most proud of? My 10km PB was my second road race. I ran the Sportman's Warehouse 10km race in Krugersdorp last November and it was the first time I felt like I wasn't going to die and could get into an enjoyable rhythm. It was a small race, and I slept all day afterwards, but I was smiling the entire 10km!
What is your favourite running quote? "You're never going to get any better at running hills if you don't run up them silly!" – my boyfriend
Where is your favourite place to run and tell us why? Living in Jo'burg, the suburbs can be a little boring after a while, so I try to head down to Delta Park as often as I can. It really is so much fun to run amongst other runners and their dogs. Running dogs make me ridiculously happy, I swear they're smiling at me! But I'm also a fan of the 5km promenade run in Umhlanga and always try to fit that in whenever I head down to KwaZulu-Natal.
Why do you run? So many reasons. It's become my way of dealing with all sorts of emotions in my life. If I'm angry, sad, happy, lonely, tired or bored, I hit the road. I always feel more satisfied with life after a run and take comfort in the fact that I've worked so hard on training in the last year that I can be proud about my running. My reasons for running have changed over the years, but once I got over the "I need to lose weight" reason, and started running because I enjoyed it, that's when I really got into.
What has been/is your biggest running challenge and how did you/ do you overcome it? Learning that it's OK to go to races alone. When I started running, I would flake on doing a race alone since I had started running for the social appeal. When I got more used to the idea, I started enjoying the silent moments in the car before heading to the start. I forced myself to go alone, it doesn't make a difference once you're on the road anyway right?
What is the biggest life lesson running has taught you? Patience. I've had to deal with injuries, with bad times, bad races, moments where I've wanted to throw away my trainers because I didn't feel good enough for them. I've had to learn to hang in there, because it always gets better.
What races are on your bucket list? My serious inner runner wants to say something incredible like Comrades or some other intense ultra to impress people, but I enjoy the quirky and Le Marathon du Medoc in France is so appealing! It's that social runner in me that wouldn't mind doing 42km and stopping along the way for a glass of wine and some cheese! The Nike Women's Series that the brand operates mostly in the US also look likes lots of fun, hoping we'll get one of those races here in South Africa soon.
I've considered the Otter Trail run, but I've done the hike and it's basically the same as doing lunges up and down a few mountains for 42kms so I think a lot more mental prep is in order before I attempt that.
Who is your dream running partner and why? Anybody that carries jelly babies and will sing with me when I get a little delirious at about the 18km mark, basically. Oh, and maybe Ryan Sandes, that guy is so fit he could run ahead and find a garage to buy jelly babies and run back to me.
What do you love about running? The fact that I can finally do it! I've never been overly sporty and I don't consider myself a natural athlete unless you consider being a couch potato as a discipline. I've taken the time to get better at running and can finally just enter races without stressing about whether I'm ready.
How do you deal with disappointment or injury from a mental perspective? I don't. I battle with the mental blow once I'm injured and after my glute injury at the start of 2013, I chose self-pity and didn't attempt to fix it properly for about 3 months. This is still something I'm learning that I know will take time.
What is the number 1 tip you would give to a brand new runner? Some races are just about finishing. Don't fight the clock because in the end 10km is 10km and it doesn't matter if you take 1 hour or 3, that fact is you did it. You'll get better because it's only natural that you do, enjoy the run and smile when you run down a hill, there's a childlike joy in it that will keep you going.
Do you use any running apps or gadgets? If so what is your favourite and tell us a bit about it? I use a Garmin Forerunner 10. It's the most basic of all the Garmin watches, but it does everything I need plus it comes in lime green, which obviously makes me run faster than if it was just plain black. Just kidding, obviously the pink one would make me much faster

Where can we find you on socials networks (Twitter/facebook/blogs)? Check out my Blog, find me on , , and
Share This Post