Run Talker of the Week – Bronwynne Wiehl.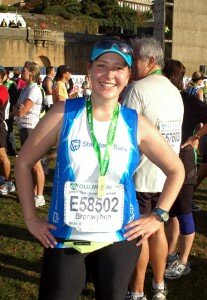 How did you get into running? My husband has been a runner for the last 20 years and spends most of his weekends at races and training. He always begged me to join him so eventually I did. My motivation was more for weight loss than anything else but I ended up loving it.
How long have you been running? I was never a runner at school & never even went to gym. I started with a walk/run strategy, covering distances of 2km – 4km in 2009 and gradually built up from there. My first race was the KFC Valentine's Day Night race at Randburg Harriers. It was so festive and everyone was having so much fun, I just loved it. Nowadays, running is an integral part of my life.
What is your favourite distance to run and why? For races, I'd most probably say 10kms. I find unlike the half marathons, the distance is less stressful on my body and 'doable'. As for casual running, nothing beats that 5km run after work to de-stress and clear your mind.
Who is your biggest running inspiration and why? It's pretty much everyone who wakes up at the crack of dawn on a weekend (especially during Winter) and heads out to run.
What is your biggest or best running achievement? What are you most proud of? I missed the 3 hour cut-off for Two Oceans half marathon in 2010 by 6 minutes. It devastated me!  But I went back in 2012 and shaved over 20 minutes off my time and got my medal!
What is your favourite running quote? "It's very hard in the beginning to understand that the whole idea is not to beat the other runners. Eventually you learn that the competition is against the little voice inside you that wants you to quit" ~ George Sheehan
Where is your favourite place to run and tell us why? My favourite running route is definitely through my neighbourhood of Norscot Manor & Douglasdale. The streets are lined with the most beautiful jacaranda trees and throughout Summer, all you can smell are the flowers. It's just beautiful.
Why do you run? To remind myself that my body and mind are capable of anything.
What has been/is your biggest running challenge and how did you/ do you overcome it? My biggest running challenge is actually a mental one. I'm quite a slow runner and during the races, even the walkers come past me like I'm standing still. It's quite a mental challenge to remind myself that it doesn't matter what my time is or what pace I run, the fact is I'm still running and crossing that finish line like everybody else.
What is the biggest life lesson running has taught you? To never give up and to always push myself no matter what. Running has taught me that things are not always going to be easy. That life (and running) can some days be hard but the rewards outweigh the pain.
What race/s is/are on your bucket list? My hubby and I always talk about running one of the big international marathons, such as Berlin, London or New York. But these are very big dreams! Right now, if I could manage any marathon I'd be over the moon!
Who is your dream running partner and why? Funny enough I'd love any running partner who runs at my pace! I run so damn slowly that I struggle to keep up with other runners.
What do you love about running? Escapism. And the feeling when I'm finished running and my face is all hot and sweaty and my legs are tired and wobbly. There's something about that runners' high that is addictive.
How do you deal with disappointment or injury from a mental perspective? Disappointment is one of the biggest challenges I face. I am constantly beating myself up about my running speed (or lack thereof). Ironically enough, I'm less hard on myself when I get injured. I struggled with plantar fasciitis in 2012 but it didn't bug me as much because I knew I'd recover.
What is the number 1 tip you would give to a brand new runner? Do not compare yourself with other runners. Every individual runs at a different pace and enjoys different distances. Just run!
Do you use any running apps or gadgets? If so what is your favourite and tell us a bit about it? Only my Garmin. I like to upload my runs to Strava and share my activity with other runners. Not only does it keep me honest but having an online diary makes me notice when I haven't run enough in the month and need to up my training. It's not an app or gadget but I've also got a favourite blue cap which I run with. It's my lucky cap and after a couple of years now looks a bit skanky. But I love it!
You can find Bronwynne on , , , and follow her blog.
Share This Post