Cycle Talker of the Week – Victoria Myburgh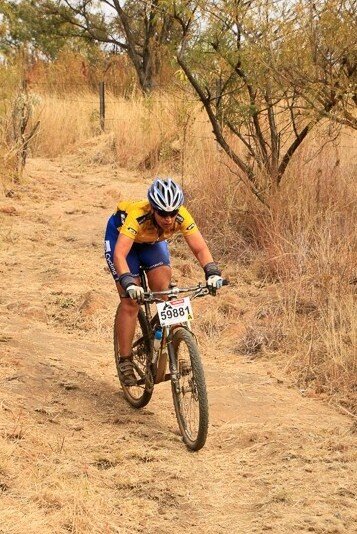 How did you get into road cycling? I began cycling on the track as an u14. I had read cycling magazines and wanted to get into MTB racing, but read an article that referred to track cycling coach Dave Street. It turned out that my mother knew him, and so I went to meet him and began training on the track with his group. I later began racing on the road, as my interest was in the endurance events on the track so road racing was complimentary. My goal was still eventually to race professionally on the MTB. Supported by Linden Cycles, I competed in as many road and MTB events as possible, hoping to be recognised by a MTB team. I literally accidentally met John Robertson, and from there my more serious road racing began with Team Bizhub and later the FJR Women's Team. My focus has moved back to the MTB though.
How long have you been cycling? I started cycling in 2001 at the age of 14. I have been riding for 11 years, with two "brief sabbaticals" along the way.
What is your favourite distance to cycle and why? I most enjoy marathon distance (+/- 75km) on the MTB. I also really enjoy Ultra Endurance events, such as the Trans Baviaans. It appeals to me to see how long I can push myself for. The attraction was similar for the endurance events on the track, where I enjoyed seeing how far into the red I could push myself, and see who else would be able to stay with me.
Who is your biggest cycling inspiration and why? I am inspired by Jens Voigt. He really is the epitome of giving your everything in a race. He remains completely down-to-earth and approachable, and he appreciates and engages with his fans. Also, that he has been cycling for so many years and still clearly enjoys himself, inspires me. I want to enjoy racing my bike, otherwise what else is there? Locally, I am also inspired by Robyn de Groot. She is incredibly strong and can give a serious lesson in suffering. She has reinvented herself as a massively successful MTB'er, and she has remained completely down-to-earth and friendly. She also appears to be racing because that's what she loves to do, and that inspires me.
What is your biggest or best cycling achievement? What are you most proud of? Certainly my 7 SA titles on the track have been a highlight, as was representing South Africa at the Australian Youth Olympic Festival in Sydney 2005. But I think I am most proud of the 2013 season on my MTB, it was my first full season racing MTB and I came away with a few top finishes, including second overall Senior Woman for the Nissan Trailseeker series, and 6th at the Crater Cruise. I am most proud of it, because for the first time in a long time I am racing because I love to!
What is your favourite cycling quote? "Shut up Legs!" Jens Voigt
Where is your favourite place to ride and tell us why? I love to ride at Holla Trails in Ballito. I think the combination of holiday vibes, plus the huge variety of trails ranging from open farm roads, to beautifully built and challenging single track in the most amazing surrounds makes it unbeatable. The Spruit in Joburg is also a favourite when I can ride with my fiancé Casper and finish it off with breakfast at Café Eleven Forty Five.
Why do you cycle? I cycle because I love to be outdoors, and I love feeling fit and healthy. I love feeling tired after a tough ride! And also I have this terrible competitive streak that I can't beat down…
What has been/is your biggest cycling challenge and how did you/ do you overcome it? My biggest challenge has been to learn to ignore the critics. There are always going to be people that doubt you and tell you all the reasons that they think you can't achieve something. The cycling community is also very small, news travels fast and people love to spread a rumour. I have had to remind myself why I ride my bike, and at the end of the day people come and go but I can still love to cycle regardless.
What is the biggest life lesson cycling has taught you? It's summed up above J
What race/s  is/are on your bucket list? The Freedom Challenge! One day, when my degree is in the bag and I can afford to take a month off of "Life" I want to race this. I would also love to race all of the amazing stage races across South Africa, we have a beautiful country and this is the best way to explore.
Who is your dream cycling partner and why? My fiancé Casper! He is the Head Mechanic for Team MTN Qhubeka and spends over 200 days out of the country every year. Being in the same place at the same time to share a bike ride is magical, and he always makes the ride special. If we can both be home for Trans Baviaans 2014, that would be incredible. One day I'd love to tick off all of my Bucket List races with him as my partner.
What do you love about cycling? I love the amazing places that you travel to, to race. I love an early morning ride when the rest of the world is still asleep, when the air is crisp and clean and seeing the time of day that everyone else misses. I love to stop off for a coffee afterwards and take the ride in, and I love all of the amazing people that you meet and friends you make along the way.
How do you deal with disappointment or injury from a mental perspective? I had a huge crash in 2008, breaking and dislocating my shoulder. It meant that I missed what was to be my first Trans Baviaans. It was tough, because we had been sponsored for the event and I felt like I was letting a lot of people down. This is the prevailing theme for me, when I am sick or injured I feel like I have let all of the people that support and believe in me, down. I try to remind myself that they believed in me and supported me to get where I am, missing one race won't destroy this. I have to just make sure I go out the next time and do a proper job, just to ensure their confidence stay there!
What is the number 1 tip you would give to a brand new cyclist? Try everything! Road, track and MTB. You might surprise yourself. And make sure the reason that you get up to go and ride your bike is because it makes you feel good, that's half the battle won.
Do you use any cycling apps or gadgets? If so what is your favourite and tell us a bit about it? I use Endomondo, which I love on the MTB because we have discovered lots of new roads and routes I we would never have known about otherwise. I also have a Powertap, which I love. It means I always know that I have done what I set out to do on a training ride, and I can always make sure that my training is executed according to my program. It is also a fantastic tool to track your progress and increase in power. I love being able to set a new personal best!
Where can we find you on socials networks? (Twitter/facebook/blogs)   Just on
Share This Post